Among the 30 best
Gambero Rosso chefs
Stupor Mundi Jazz Club brings exciting gastronomic experiences to the table accompanied by great jazz music, in a magical combination that nourishes the heart. The venue is located in an old factory in the Sant Eufemia industrial area where, until a few years ago, the din of production machinery reigned supreme and today, as if by magic, all is silent and you can lose yourself with a friend among the music and the myriad specialities of good food.
The kitchen is run by chefs Cozza and De Carli from the school of Gualtiero Marchesi and the barmen are worthy of the days of Prohibition! Born out of its founder Luca Moretto's passion for the saxophone, Stupor Mundi Jazz Club is a restaurant featuring prominent musicians, primarily icons of the jazz scene and artists from related genres such as blues and flamenco. And on some invitation-only evenings, the Stupor Mundi Jazz Club opens its own musical Jam Session, in homage to the passion of those who leave their heart and soul on the stage.
Stupor Mundi Jazz Club is open every Friday evening – booking well in advance is recommended.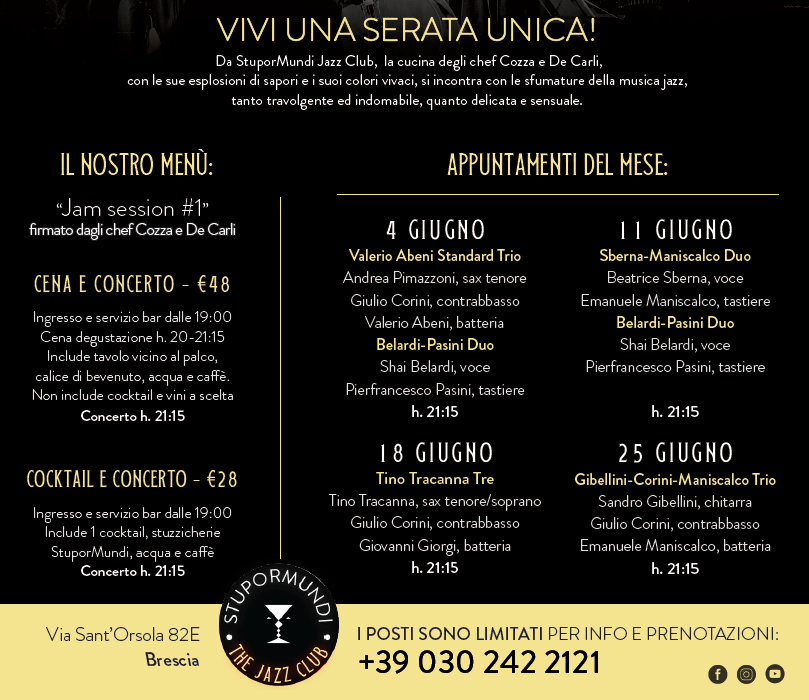 Reserve a table
Online food store
The quality of yesteryear, with home delivery
Our world
Discover the specialities of SMJC
Home chef
Our top chefs in your home, preparing special dinners and spoiling your guests.
Weddings
Catering for once-in-a-lifetime weddings. Charm, magic and the art of great cuisine will make for the most beautiful wedding.